Recipes
Shrimp
Ancho Chile Shrimp Soup
Ingredients
1 Tbsp olive oil
1 onion diced ½"
3 stalks celery sliced ¼"
2 carrots peeled, sliced ½" thick wheels
1 green bell pepper, seeded, diced ½"
1 yellow zucchini, sliced ½" think rounds
1 green zucchini, sliced ½" think rounds
3 cloves garlic, minced
2-3 tsp ancho chili powder
1 ½ tsp dried oregano
½ tsp salt to taste
1 (14.5 oz) can diced tomatoes in juice
8 cups chicken broth
1 ear corn cut into wheels or ½ cup corn kernels
1 lb OLA brand shrimp in shell, easy peel
Directions
In large pan over medium high heat combine first group of ingredients, and cook 2-3 minutes until vegetables brown slightly. Add spices, tomatoes, and broth. Bring to a boil, and then reduce heat to simmer and cook for 15-20 minutes until vegetables are tender. Bring back to a boil, add corn and shrimp and cook for 3-5 minutes until shrimp are pink and cooked through. Serve, garnished with fresh lime wheels.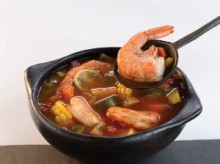 Crab/Lobster
Alaskan King Crab Louis
Ingredients
1 ½ lbs. Alaska King crab split legs, thawed if necessary
2 large tomatoes, cut into wedges
2 hard-cooked eggs, cut into wedges
1 cucumber, sliced
8 spears drained, cooked or canned asparagus*
½ cup pitted ripe olives
Lettuce
Lemon or lime wedges
Louis Dressing
Directions
Cut crab legs into 2 ½ to 3 inch pieces. Arrange crab, tomato, egg, cucumber, asparagus and olives on individual lettuce-lined plates; garnish with lemon. Serve with Louis Dressing. Makes 4 servings. Recipe can be halved.
Dressing - Combine ½ cup mayonnaise, ⅓ cup chili sauce, 1 tablespoon minced green onion, 2 teaspoons lemon or lime juice, 1 teaspoon prepared horseradish and dash bottled hot pepper sauce; mix well. Makes 1 cup.
*One sliced avocado can be substituted.
Squid/Octopus
Grilled Calamari Steaks with Avocado and Tomato Salsa
Ingredients
4 calamari Steaks
2 tablespoons chopped chives
1 tablespoon coriander leaves
2 lemons or limes
10 cherry tomatoes
1 red pepper
1 green chilli
1 ripe, firm avocado
Directions
Roughly chop the tomatoes, pepper and chilli and place in a bowl. Cut the avocado in half. Slice the flesh from both halves into chunks and add to the chopped ingredients. Pour over a generous amount of olive oil, season with salt and pepper and set aside.

Grill the calamari steaks for two minutes on each side, or longer if you don't want them too underdone. Season with salt and pepper on both sides and allow to rest in a warm oven.

To serve, divide the salsa equally on four plates, place the calamari steaks on top; sprinkle with the chives and coriander and serve with half a lemon or lime.
Fish - Wild Harvest
Broiled Orange Roughy Serves 4
Ingredients
1 ½ lbs orange roughy
3 tsp butter
2 tbsp white wine
¾ tsp seasoned salt
3 tbsp bread crumbs
2 tbsp Parmesan cheese
Directions
In 9 X 13 baking dish melt butter. Add wine. Roll the orange roughy in the butter and wine mixture so both sides are coated. Sprinkle seasoned salt over the top and broil 6 minutes. Pull out and sprinkle on the bread crumbs and Parmesan cheese. Broil 1 more minute.

By Cooks.com
Miscellaneous
Frog Legs a la Provencal
Ingredients
12 frog legs
1 cup all-purpose flour, seasoned with salt & pepper
¼ pound melted butter
2 tablespoons extra virgin olive oil
½ cup minced green onions
¼ cup slivered garlic
1 cup diced tomatoes
1 ounce dry white wine
1 cup chicken stock
¼ cup sliced green onions salt and pepper to taste
Directions
In a 10-inch sauté; pan, heat butter and olive oil over medium high heat. Coat frog legs in seasoned flour, shaking off all excess. When butter is hot, sauté frog legs 2 to 3 minutes on each side. Add onions and garlic. Saute 3 to 5 minutes or until vegetables are wilted. Add tomatoes and cook 2 to 3 additional minutes. Deglaze with white wine, then add chicken stock. Bring to a rolling boil. Then reduce to simmer and cook until frog legs are tender, 5 to 7 minutes. Sauce should be slightly thickened because of the flour in the skillet. Add green onions and season to taste using salt and pepper. Additional stock may be needed to return a sauce-like consistency.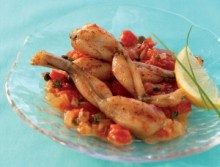 Scallops/Mussels
Mussels on the Half Shell
Ingredients
Directions
Remove Green Shell mussels from the pack. Place them on a clean plate. Cover loosely with a clean cloth or plastic film. Leave to thaw at kitchen temperature for 25 minutes. Top with lemon juice or vinegar dressing seasoned with herbs or simply serve chilled on a salad. For a garnish add Red Bell Pepper cut Julianne style.